Samuel de Champlain
400th Anniversary of the Discovery of Lake Champlain on July 4, 1609 by Samuel de Champlain

The header above is made up of pieces of Samuel de Champlain's
1612 map which appeared in "Les voyages du Sieur de Champlain"
... Paris in 1613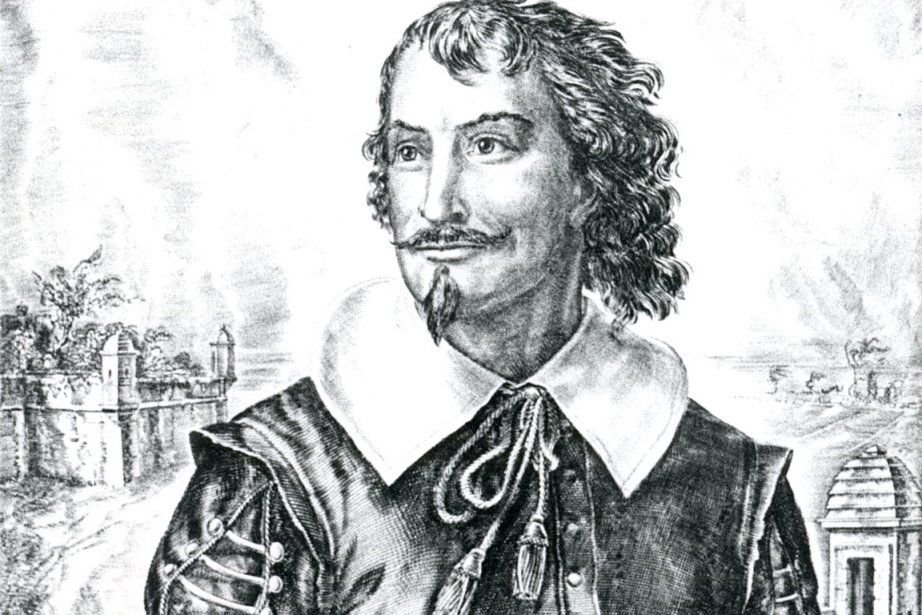 Photo from Le Soleil
Champlain's 1574 Baptism Document Has Been Found by Jean-Marie Germe
Samuel de Champlain's birth and baptism dates have always been a mystery. It has been assumed that he was born in Brouage, France in either 1567 or 1570. However, this year, 2012, Jean-Marie Germe, a genealogist from Poitou, discovered the baptism record of the founder of Quebec. The document was found in the online archive of the pastoral register of the former Calvinist Temple of Saint-Yon at La Rochelle, France.

Samuel de Champlain was believed to be born in Brouage, Saintonge. Samuel de Champlain, according to his marriage record (late 1610), the son of the late Anthoine de Champlain, a captain in the Navy, and Marguerite Le Roy. It must be known that Samuel's father has often signed documents as Chappelain and that surnames varied regularly at that time. The family owned houses in Brouage and La Rochelle which would explain the old belief.
The historical document states that Samuel, baptized August 13, 1574 at Temple Saint-Yon, La Rochelle, son of Antoine and Marguerite Chapeleau Le Roy, married around 1562 (La Rochelle, Saint-Yon).
Jean-Marie Germe says: "Actually, I had accumulated all the clues over the past twenty years. This includes following the trail of Champlain's uncle, the famous corsair William Allaine. He owned a house in La Rochelle, another in Brouage. His son died, he made his heir Samuel. It seems that Samuel's parents lived in the house of Quatre Vents, Place des Petits-Bancs in La Rochelle, "explains Jean-Marie Germ. As of the Brouage house, the one everyone knows, it would become property of Champlain in 1601".
Check out the following links for more information
Check out the following webpages of 1909 Historical Photographs
Maps of the Voyages of Champlain
Champlain's Hometown Photo's at Brouage, France
Photos of Brouage, France taken by Jann LaValley of Ste Anne de Bellevue, QC in 2005
Click on each thumbnail to view a larger copy

Photos above are displayed on this website with her permission given on 25 April 2008